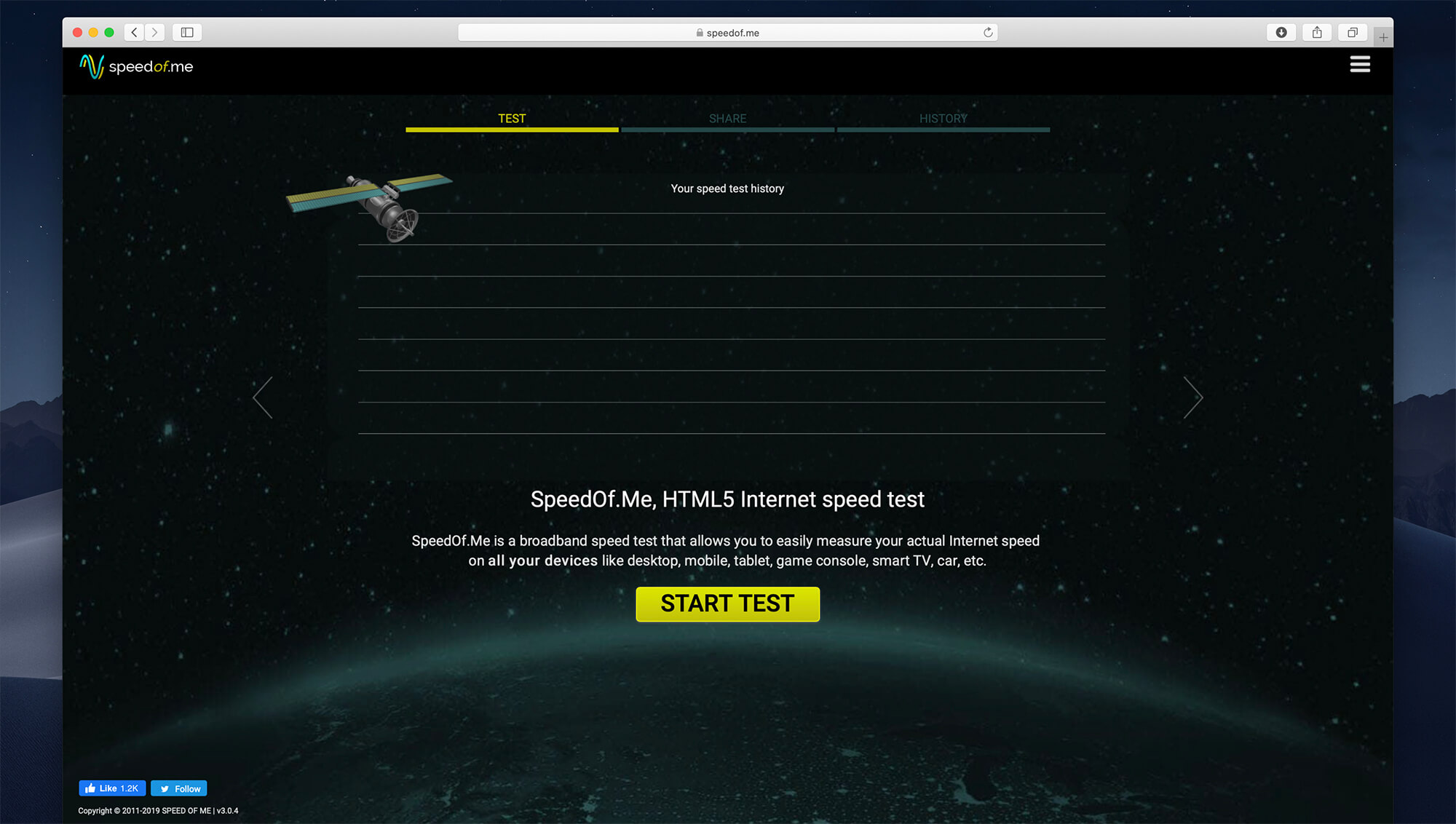 SpeedOf.Me is a popular speed test website that was launched in 2011. It is one of the best speed testing websites in the world that not only has a good looking interface and graphics, but it also has somewhat accurate results.
Some websites provide accurate results, but their graphics are poor, some have good graphics, but results aren't accurate and reliable, however, that is not the case with SpeedOf.Me.
To find the analytics and stats of your internet connection, you need to perform a speed test.
It is hard to find such a website through which you can find detailed statistics of your internet connection but SpeedOf.Me is a website that you can try to find out the stats of your internet connection.
Speed Testing Websites are becoming popular nowadays because these websites provide you with correct and accurate stats of your internet connection including the upload speed, download speed, and latency and you can find out if you are getting the internet speeds that you're paying for. One of such speed testing website is SpeedOf.Me.
Unlike any other website, it uses HTML5 and Javascript. Both the HTML5 and Javascript don't require any additional plugin, so you can run SpeedOf.Me on any web browser without installing any additional plugin.
It works perfectly on all smartphones, handheld devices, and desktops. It also has a dedicated extension available and you can use that extension to perform speed tests any time you want.
The speed test takes a moderate amount of time depending on your connection. If it is fast then the test is quick, but if it is slow then it can take some time.
As far as results are concerned then the results can sometimes be very accurate and sometimes they can be completely off the charts. This is a big flaw that this website has, it is unable to provide the same and accurate results all the time.
Simultaneously performing two speeds tests, you would find that the results aren't the same and they will be varying. So, this is the problem that you can't completely rely on the results of the websites.
When it tells you the statistics of your internet connection, it also shows you your IP Address along with the server that was used to perform the test.
It has multiple servers around the world and the test server, which is nearest to your location is automatically picked for the best performance possible.
It also keeps the history of all the tests that you perform on your device and keeps them saved in a separate test.
You can access all the previously performed tests from the History tab and you also get the option to export the stats of all the previously performed speed tests in the form of a .CSV file.
It also lets you share the results of your speed test if you want to. You can share the results directly on Facebook/Twitter or use the link to share it with anyone you want.